TS Høeg Ensemble Dome Music (CD)
Dane TS Hawk is known as one of the most iconoclastic and dynamic characters on the Danish scene. As a writer, composer, musician, bandleader and self proclaimed outertainer, this seminal legend has been on the cutting edge for more than 25 years. Dome Music, recorded live at the cathedral of Copenhagen, shows Hawk at his most ambient and tranquil. The piece is scored for alto saxophone, cornet, guitar, church organ and percussion and is a masterful adaption of the composers trademark style into a beautiful and trancy modern kind of church music.
TS Høeg, er kendt som en af de mest dynamiske skikkelser på den danske musik, litteratur og kunstscene, hvor han gennem de sidste 25 år konstant har været involveret i nyskabende projekter og udgivelser. Med Dome Music, optaget live i Københavns Domkirke, viser Høeg endnu engang sin evne til at reformulere og forny sig. Skrevet for besætningen altsax, kornet, guitar, kirkeorgel og trommer, fremstår værket som en smuk og luftig ambient form for moderne kirkemusik.
Track listing
1. Domeb
2. Interlude
3. Domea I
4. Interlude
5. Domea II
6. Interlude
7. Domeb
8. Domec
9. Domed
10. Domef
11. In and out of a dome
Plan of package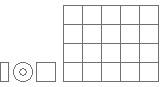 E2
200 numbered copies
Artwork: A poster by Nis Bysted in parchment
Release date: 13 April 2006
Catalogue # ESC-02
Shop
Go to the frontage for pricing and order options