Escho 13:
Thulebasen – Guitar Wand (LP)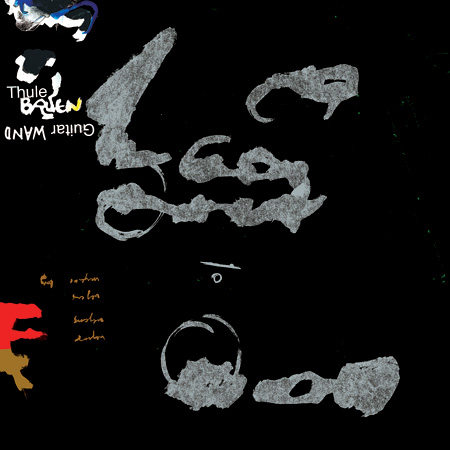 Guitar Wand contains: Homemade LP / 60×90 cm poster / Free digital copy
Thulebasen debuterer på et elektrisk tæppe af flyvende guitar og beat. En pøl af lyd, hvor vokaler som papirklip, rytmer af forvoksede grene og melodier af kvælende luft knækker i en abstrakt regndans på årets tørreste dag. Der rejses med tog til Gøteborg og synges om broen bifrost og blå ben på Guitar Wand, hvor baglæns og riff er kodeord, i det let ridsede og opfindsomt luftige lydunivers.
Thulebasen kaldes også Nis Bysted. Siden den tidlige ungdom har han arbejdet med tegning, grafik og musik. Først som medstifter og guitarist i Düreforsög, og siden hen som del af Escho og medlem af Mit Nye Band.
Description
Thulebasen arrives on an electric carpet of flying guitar and beat. A pool of sound where paper silhouette vocals, melodies of suffocating air and rhythms like the rustling of leaves break in an abstract rain dance on the driest day of the year. Train journeyes to Göteborg, the bridge Bifrost and blue bones are some of the themes on Guitar Wand, a slightly scratched and gloriously warped production, where riff and reverse are code words.
Thulebasen is also called Nis Bysted. Since early adolescence he has worked with drawing, graphics and music, first as co-founder and guitarist of Düreforsög, and later as part of Escho and member of Mit Nye Band.
Track list
01. spell (4:08)
02. Riddletree (5:56)
03. Space Debris (6:40)
04. Yzx (3:24)
05. Sirkel Riff (0:26)
06. Blue Bone (3:05)
07. Train to Götheborg (4:11)
08. Hallo (0:11)
09. Bus III (3:46)
10. Watch Your Pants (0:54)
11. Soft Bone (2:20)
Notes
All music composed and arranged by Thulebasen. Mixed by Thulebasen. Mastered and cut to vinyl by Goodiepal.
---
Shop
Go to the
frontage
for pricing and order options
---
Free digital copy
For customers that have shopped Guitar Wand on LP
www.escho.net/dd

---
Released 21 December 2008
Catalogue no.: ESC13
Format: LP
250 copies