Escho 11:
Lamburg Tony
Hip Hop Nation (LP)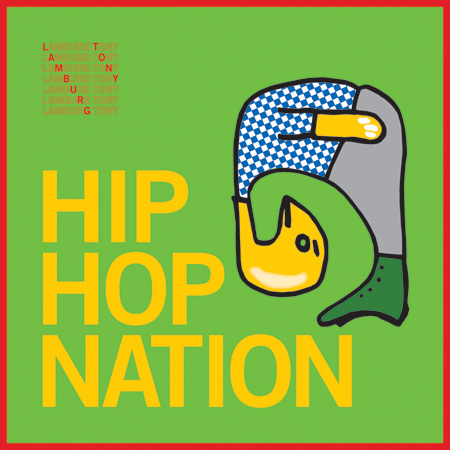 Hip Hop Nation contains: Yellow LP / 50×70 cm poster
Magic tools text / Free digital copy
Description
With inventive use of simple equipment, Lamburg Tony creates exotic and poetic dancing tracks that contain fragments of flying cowbells, wet trumpets, children's choir, frogs and Vietnamese. On his debut album Hip Hop Nation he places the tough rhythm of the street in a withdrawn rural garden, and creates a kind of expressionist easy listening, where clocks not only melt, but also turns into pots and pans, that once again can be misunderstood in a futuristic archaeological excavation. This is Hip Hop Nation, with high fives and hugs for everyone.

Lamburg Tony has worked with music since he was a teenager, and made several self-releases only distributed to friends and relatives. Among them are Hvid Staff (2003), Charmini, Alphons (2004) and Polske Høns (2005) not to mention the cassette tape classic Noise Dance (2007). Many of these releases have been made in collaboration with his cousin Niels, who acts as a kind of producer. Niels also did the mixing of Hip Hop Nation, and is known in Escho context as the bass player of KLoAK.

Escho have for a long time been fascinated and inspired by Lamburg Tony's original and immediately appealing music, and with the release of Hip Hop Nation we hope to make these alluring sounds and rhythms available for anyone who should wish to enjoy them.
Tracklist
1. Stakkels fattige folk [Poor poor people] (8:21)
2. Fy Coco [No No Coco] (7:55)
3. Værtshussport [Pub Sports] (3:26)
4. Thailand og et andet varmt land [Thailand and another warm country] (9:43)
5. Voksenliv [Adult Life] (9:18)
Notes
All music by Lamburg Tony. Mixed by Niels. Mastered by Goodiepal.
---
Shop
Go to the
frontage
for pricing and order options
---
Free digital copy
For customers that have shopped Hip Hop Nation on LP
www.escho.net/dd
---
Released 7 December 2008
Catalogue no.: ESC11
Format: LP
500 copies

www.lamburgtony.com
www.myspace.com/lamburgtony